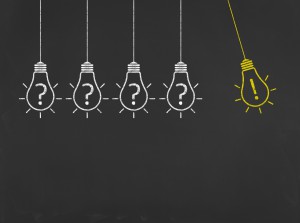 UpToParents has received countless questions over the past decade concerning how to handle different parenting circumstances—and, yes, conflict—during separation and divorce. Our friend and colleague, Pat Brown, has helped inform the litmus test question we suggest parents use whenever they're facing a co-parenting dilemma:
"What do we want our children to look like when they're 25?"
That simple question can distill a lot of wisdom for any of the common co-parenting dilemmas: How should we handle who gets the kids for which holidays? Who should pay for the extra pair of sneakers? Etc.
Staying focused on the common, bigger goal—raising healthy, happy, thriving children who grow up into healthy, happy, thriving adults—can make all the difference in reducing conflict. It's transformative for you, and essential for your children.
In Brené Brown's newest book Braving the Wilderness: The Quest for True Belonging and the Courage to Stand Alone, Dr. Michelle Buck explains the concept of "Conflict Transformation," and how letting go of the past in favor of the future can be game-changing:
When disagreements revolve around what happened in the past, it's easy to fall into countless volleys of "you said. . . . I said" back and forth. Focusing on what did or didn't happen in the past, or what past events led to the current situation, usually increases tension and decreases connection. A critical first step is to shift the focus to "Where are we now?" and the most important turning point comes when we focus on the future. What are we trying to accomplish for the future? What do we want our relationship to be going forward, and what do we need to do, even if we still disagree, to create that future? What do we want for our family in our future. . . . This shift in focus does not necessarily mean we agree, but it may help us identify agreement about a shared future that we want to create together.
So if you find yourself in the throes of past-oriented thinking, consider keeping in mind the bigger picture and the long-term, 30,000-foot perspective by asking:  What will this mean to our child when he or she is 25?  Children of divorce don't often care or remember where they spent Thanksgiving dinner, but they do remember any fighting about it.
And if you're being cooperative—but finding your co-parent is struggling—take a look at Yeah, But You Don't Know My Co-parent for some tips and encouragement.   #BecausePeaceForChildren is #SuccessForParents.

Dr. Kylea Asher-Smith, PhD, serves as Executive Director of UpToParents.org. An experienced educator, mother of two, and child of divorced parents herself, Dr. Asher-Smith shares in UpToParents' mission to help parents focus on their children's needs during separation and divorce. Because peace for children IS success for parents.

Latest posts by Kylea Asher-Smith, PhD (see all)