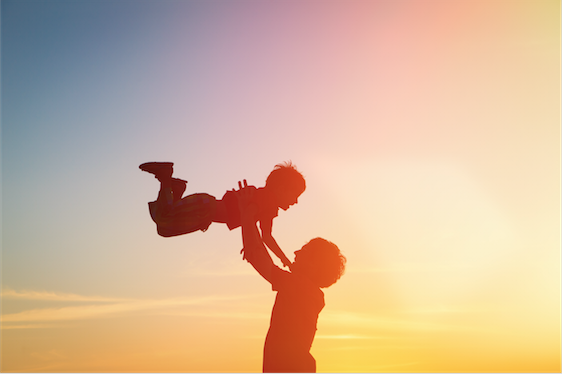 A friend who's been through a divorce recently confided to me his anxieties and guilt about how the divorce could affect his son in the years to come. The list of his worries was long, and I could tell my friend was pained thinking through all of the "what if's."   After listening to the growing list, I paused and said: "He's going to be just fine. The mere fact that you're so sensitive to this experience from his perspective, tells me he's going to be absolutely fine."
The truth is that that there is a biological drive in most every parent to protect our children from harm. It's part of the evolutionary wisdom that propagates the species, and it's what ensures that these dependent and defenseless little beings that we bring into this world grow up in an environment safe enough that they not only survive, but also become independent and equipped for the day when mom and dad won't be around.
Our natural, biological tendency as parents is toward a state of protection. Yet, no matter how much we attempt to bubble wrap the world surrounding our children, they are bound to face hurts, disappointments, fears, and separations—in both childhood and in life. As parents, it's painful to watch. And it's all the more painful (and guilt-inducing) when we feel that our children's hurt is somehow rooted in a reality that we've created, or that maybe there was someway that we could have prevented it.
This is one reason why the guilt of the divorced parent weighs so heavily. Recognizing that the child's life would have somehow been different (or maybe in the parent's mind, better) had the divorce not occurred, divorced parents are often left with intense feelings of guilt and shame for the imperfect lives that they feel they have created for their children. But the truth of the matter is twofold: 1) there is no such thing as the perfect life for any child (nor would it beneficial to experience a completely adversity-free childhood), and 2) parental feelings of lingering guilt are of little use to us or to our children.
How parents of divorce manage guilt, and what they do with this information, can, however, have a powerful effect on children. Tara Mohr, author and founder of the Playing Big leadership program, suggests that when people are faced with any form of self-criticism (what she calls our "Inner Critic"––that inner voice that tortures us with all the ways in which we haven't measured up, or will never be adequate), that we gently tell our Inner Critic: "Thanks, but I've got this one covered." By acknowledging and thanking our Inner Critic, we are invited to step outside of the space of self-blame and torture, and into a place where we can constructively take action.
So, what sorts of actions might be constructive for separated and divorced parents, and by extension their children, during these private moments of guilt and shame? Here are just a few ideas to get you started:
Make every effort to minimize—and better yet, eliminate—all conflict with your co-parent. Studies have shown it's not divorce that has a negative effect on children, it's parental conflict. If necessary, seek counseling or mediation for help.
Create a list of 10 compliments or special memories about your co-parent that you can share with your child in conversation. Make it a habit to be generous in how you speak of your co-parent. Remember that half of your child is your co-parent. What you say about your co-parent will reflect in what your child thinks of himself or herself.
Write your child a letter, outlining all the ways in which you admire him or her.
Focus your energies on self-care. Join a social group, form a book club, exercise, eat well, seek counseling, if necessary. Show your children that you are committed to being the healthiest you possible.
Surround yourself with positive people. If you experience your friends or family speaking negatively of your co-parent, change the subject or ask that they help you commit to positive and constructive conversations.
Complete UpToParents.org—the free workshop that's now helped over 200,000 separating and divorcing parents to focus on their children's needs.
Next time you find yourself wallowing in the guilt, refocus your energies on constructive actions that will really help you and your child. For more information on child-focused separation and divorce, visit UpToParents.org.

Dr. Kylea Asher-Smith, PhD, serves as Executive Director of UpToParents.org. An experienced educator, mother of two, and child of divorced parents herself, Dr. Asher-Smith shares in UpToParents' mission to help parents focus on their children's needs during separation and divorce. Because peace for children IS success for parents.

Latest posts by Kylea Asher-Smith, PhD (see all)